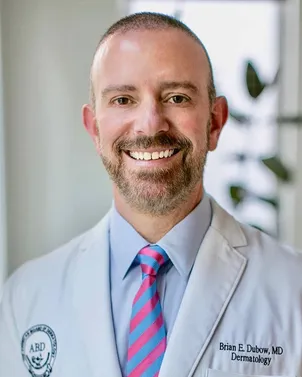 Brian E. Dubow, M.D. is a triple board-certified dermatologist and skin pathologist. He holds board certifications with the American Academy of Dermatology, and the American Board of Pathology and Dermatology in which he is certified in Special Competence in Dermatopathology. In 2021, Dr. Dubow was among the first physicians in the United States to achieve Board Certification in MOHS surgery and is now Triple Board Certified (Dermatology, Dermatopathology, MOHS micrographic surgery).
Dr. Dubow has been repeatedly chosen by his peers and multiple professional review societies as one of the Top Dermatologists in the United States. He is a member of multiple professional societies promoting excellence and ethical practice in Dermatology. He is a Diplomate of the National Board of Medical Examiners, a fellow member of the American Society for Dermatologic Surgery and the American Society for MOHS Surgery.
Dr. Dubow is often sought out for his expertise in skin pathology, giving him the ability to correlate clinical with microscopic findings as well as treat all types of skin growths, moles and skin cancers. He routinely sees patients to render second opinions on lesions that have been previously biopsied. Dr. Dubow also has a special interest in treating both male and female pattern hair loss with the most up to date medical protocols and procedures.
Dr. Dubow has served as a clinical faculty member at multiple academic medical centers in Los Angeles and has served as a preceptor and instructor in Cutaneous Laser Surgery at the Coherent Medical Group in Palo Alto, CA. In our office we currently offer over 6 types of lasers for treatment of skin lesions and tattoos.
Dr. Dubow is a native of Scarsdale, New York, and completed his undergraduate studies at Vanderbilt University where he graduated summa cum laude with a degree in organic chemistry and molecular biology and was elected into Phi Beta Kappa. He attended medical school at New York University, where he graduated with honors. Dr. Dubow completed his dermatology residency training at the UCLA Medical Center and was awarded a prestigious skin pathology fellowship under the auspices of Dr. A. Bernard Ackerman at Jefferson Medical College
Dr. Dubow has published articles in peer-reviewed journals in the area of skin cancer, specifically on the early diagnosis of melanoma. Additionally, he has given presentations and interviews about dermatologic conditions. Dr. Dubow maintains membership and participates in the meetings of many local, national and international professional dermatology organizations, including:
Los Angeles County Medical Association