Keratosis pilaris: overview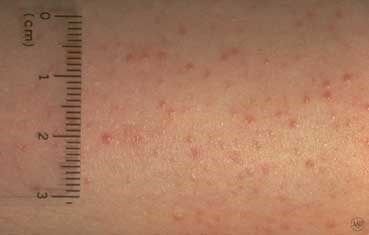 What is keratosis pilaris?
Keratosis Pilaris_YouTube_FINAL.mp4 from Chicago Health SMB Brands on Vimeo.
Keratosis pilaris is a common skin condition, which appears as tiny bumps on the skin. Some people say these bumps make their skin look like plucked chicken skin. Others mistake the bumps for small pimples.
These rough-feeling bumps are actually plugs of dead skin cells. The plugs appear most often on the upper arms and thighs (front). Children may have these bumps on their cheeks.
If the itch, dryness, or the appearance of keratosis pilaris bothers you, treatment can help.Dry skin can make these bumps more noticeable. In fact, many people say the bumps clear during the summer only to return in the winter. If you live in a dry climate or frequently swim in a pool, you may see these bumps year-round.
Image used with permission of the American Academy of Dermatology National Library of Dermatologic Teaching Slides.
---
References:
Schmitt JV, Lima BZ. "Keratosis pilaris and prevalence of acne vulgaris: a cross-sectional study." An Bras Dermatol. 2014 Jan-Feb; 89(1):91–5.
---
© 2019 American Academy of Dermatology. All rights reserved. Reproduction or republication strictly prohibited without prior written permission. Use of these materials is subject to the legal notice and terms of use located at https://www.aad.org/about/legal